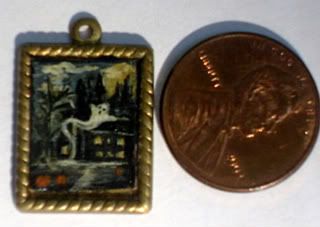 Isn't it so exquisite?...My wonderful, sweet friend, Annette of
Huckleberry Arts
surprised me with this gorgeous, hand-painted charm!!! It is the teeny, tiniest, confection!! Annette is an amazing artist whom works in many mediums. She's the talented gal who put my pics together to create my banner too!!! If you are in need of banners, backgrounds, digi-scraps, or lovely gifts of the the heart..
Please check out her
website.
You can also find her on etsy, and the little pay-pal widget at the bottom of my page!!
I have the greatest friends in the world!!! (joy!) Thank YOU so much Annette!!!!
I would also like to thank my friend Flora of
Bonehead Studio
. Without her...this post would not be possible. She taught me about taking close-up shots with my digital camera!! Thank you Flora!!! Your suggestion worked!!!!