For this week's vintage thingy,sponsored by
"Confessions Of An Apron Queen"
, I thought I'd share my road-side finds.
This dressing table set was found on separate occasions,in different locations
...I wish I took before pics. The
table was a hideous shade of pepto-bismol pink..The chair
was a cast-off sewing table chair with a lift up seat in a
dark wood finish....I recovered the seat then
I painted the set gold, then spattered black paint with a
toothbrush! It is also skirted with a vintage drapery.
The mirror is a antique which was my grandmother's.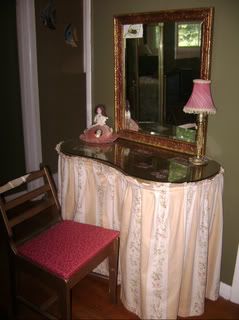 Here's a pic of the top. It now is glass-covered with my collection
of vintage/antique postcards displayed underneath the glass.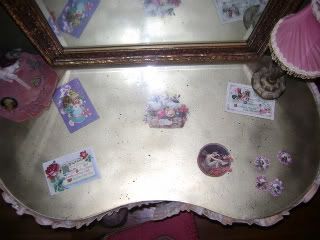 I thought my set turned out great!!! My husband doesn't even ask
"why are you dragging that junk home"? anymore! ;-)