First things first!! I finally had selected my fabric. I wanted to add an air of
thriftiness to this project, so into the linen closet I rummaged and found a decades old white sheet with eyelet trim. But I didn't want my dress to appear as if I was wearing an old sheet...so I found some black dye!!
Oh! I had visions of a unique, folksy, black garment with vibrant embroidery!!!... BIG BUBBLE BURST!!... my fabric dying experiment yielded 3 yds. of grey!!!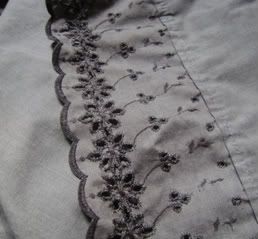 a re-examination of the tag...50% poly!!! WHOOPS! Oh well...
I got used to the idea of grey plus the no-iron factor,(an added bonus) and thus my project continues undaunted....I'm sticking to my thrifty guns and shall go where-ever this project takes me! (big grin)....have a wonderful creative day everyone!!!