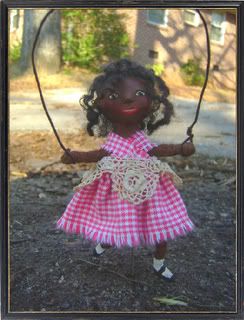 Doesn't this picture look like it could be a warm,summer day???..LOL!!..Nope..in fact, I froze my tushie off to get this snapshot!!..;-D
This tiny gal is only 4 inches tall! She is made from paper-clay and wrapped wire. She wasn't pre-planned, or designed from a sketch in any way, she just emerged
from the clay as I was playing with it!..I hadn't done anything with clay in over a year!..I definitely need to practice more!!
If you want to see some really fun, whimsical works in paper-clay, pop over for a visit with
Flora of Bonehead Studio
!!...She is an amazing artist, and very good friend who always inspires me!!