The 3 Wise Men have come and gone, and I hope you all had a wonderful, and blessed holiday Season!!..We sure did!!
My kiddos have finally gone back to school and Hubby is
back at work, leaving me to "The Big Tidy Up"!!
I was given this book with that same phrase when I was a small child...hmmmm...I wonder why!..and why do I still remember it??!!..;-D ROFL!!
Ah!!..at least now I have my computer to myself again! (wink)
I still have lots more housekeeping to do here in my virtual world. And since my real world work area is all tidy again,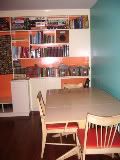 (but,not for long..lol) I already have lots of new projects in various stages of planning and execution which I'll be sharing real soon.
I wish for you all the very best throughout the New Year!
Love, Kristine ;-)