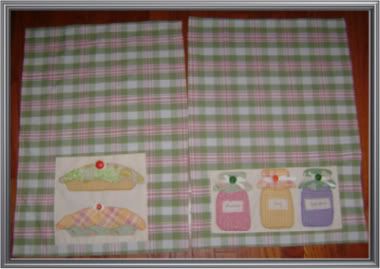 So sorry for the bad pic...It was snapped in a rush!
I finally finished this set yesterday! Made from thrifted fabrics it was finished just in nick of time, before it was time to go to the family Christmas gathering!! I think they turned out pretty cute, and my MIL loved them! ;-)
I used a pattern from Pat Sloan's Farmer's Market applique quilt pattern, which is so generously available for free!!! You can find it
here
...Oh I wish I could get my hands on her wonderful fabrics!...I love how she puts those whimsical prints together!
Perhaps a project for myself in the New Year!(wink) ;-)