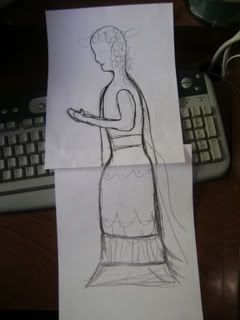 Good Friday afternoon! ;-)
It's a beautiful, warm, day here in middle-Georgia!
I had to put "Katherine" aside for a moment. This lady
was pestering me from within my head to be sketched. ROFL!! ;-D
I'm posting her very rough sketch, because I now have
you all to be accountable to. It's my saftey net to ensure
she would not be stashed away and forgotten. So If you don't see
her materialize soon....give me a pinch and a poke! ;-)
You all have a great weekend!!!