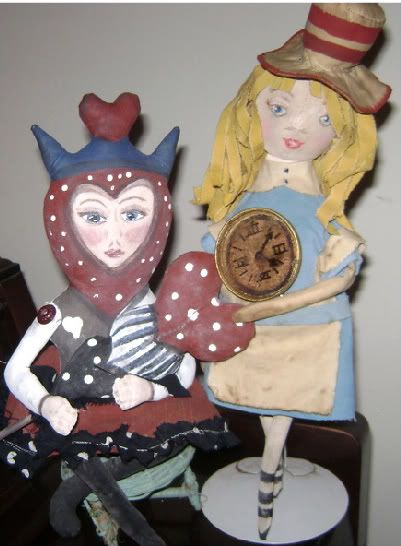 I was recently given the privilege to test drive"Alice" a
Nanny Norton
design by primitive artist Deb Klopp. (The Queen of Hearts is also a Nanny Norton design, made at an earlier date.)
The best thing about Deb's designs is they are off the beaten path, and always include fantastic elements which are great fun!!
I made up two Alice's. One using osnaburg. So sorry..no pic of the osnaburg
dolly. While she was drying in the nice sunshine,the neighbor's pug stole
Alice off to Wonderland!!(Nope!..I'm NOT joking)..lol.. the other using
"super muslin" from wal-mart.
Hands down,..The muslin works best for these designs because the tighter weave
works best for unique shapes, and small doll parts.
There is usually always a good bit of painting involved in these designs, but please,
do not be intimidated!!!! Perfect for beginners, the instructions, and templates are so clear and easy, Deb will be making grand masters of us all!!!
To top it off, there are fun, inventive little trinkets to make to accessorize
the dolls...These creations are so fun and easy to do, you will not be disappointed...You can find these designs at
Nanny Norton Prims
, And Deb
also has a shop at
Etsy.com
Please check out all her other fabulous designs and other offerings.